Ever wanted nice furniture like the image provided by Pottery Barn below, but couldn't afford the price? Ever thought of building it yourself?
Anna from Knock Off Wood breaks things down for you into simple plans, for free! She has many different plans for all sorts of furniture.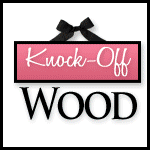 Thanks for all of your hard work Anna! When I get a bigger home I want to build a version of this for my craftroom.
If you enjoyed this post
Subscribe to One of a Kind Gifts here!