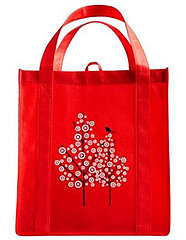 Sometimes, a gift is just something simple. I am in love with reuseable shopping bags- not the ugly ones with the store brand plastered all over them, but cute ones, that you can fold up, but have that plasticky coating and web handles? It all started with Marc's. It is a local closeout/grocery/dollar type store in my area. They sell these huge kelly green reuseable shopping bags for 49 cents. They are stitched, super durable, and huge. One of my friends started buying them like crazy, and giving them to people. She gave me one, and now I am hooked. She bought me some really inexpensive pretty ones from TJMAXX that are red and white with a black lacy pattern on them, and I bought her one at Michael's that is brown with mod spots all over it that is more her style. Now I am on the look out for them everywhere. I use them to organize my projects- everything needed goes into a separate bag, so I can grab it and go- no more hunting for scissors or whatever. We have sort of started a trend with our friends- now everyone is carrying them, and why not? You can find a huge selection of reuseable bags here, but the best deals are close to home. Look around, maybe you can start a trend in your neighborhood!
Here is a site with a tutorial for making your own, if you want to get your crafty on. Happy shopping!
If you enjoyed this post
Subscribe to One of a Kind Gifts here!